About Robot
Mozo
Let's agree that people nowadays seek the experience more than anything else, and we are not talking here about enhancing the experience or upgrading it, we're changing the whole game, and giving you an opportunity to win it.
The robot Mozo
is an innovative functional robot that can act as an Interactive Smart Waiter Robot, that can carry out reception duties, show menu & recommend dishes, deliver food and drink, and provide consultative and informative explanations, to give your guests an unforgettable experience.
Get Quotation
Main Features of Mozo:
Mozo is created for food running. The self-driving robot efficiently delivers food from the kitchen to your customers. It is mandatory to use a nonhuman-to-human delivery to keep distance and ensure your safety, as it always comes first.
The robot is designed to operate among people and maneuvers safely & efficiently in even highly dynamic environments.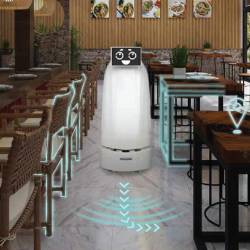 The robot autonomously navigates to find the most efficient path to its destinations. Mozo adjusts the path when it encounters obstacles that are not on the map with real-time positioning.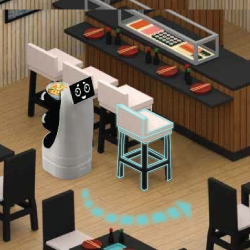 The built-in sensors ensure that the robot is slowed down when obstacles are detected in front of it.
Say goodbye to balancing a tray full of drinks. Mozo's smooth driving ability means it can deliver several beverages at once. The robot is designed to automate order deliveries across tables, allowing employees to focus on higher-value activities
According to the tray's capacity and the robot speed you can deliver a variant of dishes with beverage at once to save your time.
Achieve your waiter delivery targets with Mozo, as servers walk 5-9 miles a day running food. Our robots afford servers time and energy toward better customer service.
Take your guests' attention with his cute expressions and attractive sound with lights indicators for each state of the robot.
Mozo welcomes your guests with his cute expressions then explain them the menu and demonstrate the recommended dishes according to their choices.
The operator dashboard can be accessed from a PC, tablet, or smartphone. It gives easy access to operation & monitoring of the robot
You can customize both the screen & the appearance of the robot for more branding to your restaurant.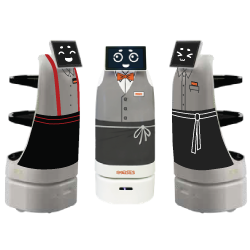 For more improvement in your restaurant, you always need to take feedback from your clients, so what do you think about automatic and interactive feedback that Mozo can collect from your guests? Asking your guest about the service and more than collecting data, Mozo gives them a feeling that you always care about their opinion, as well, Mozo emotionally interacts with their replies.
Robot Solutions
Solutions:
SMART WAITERING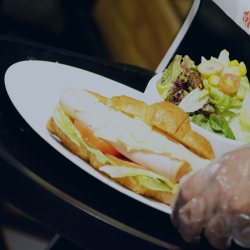 Solutions:
SMART CATERING