About Solution
Material Handling
Material handling solutions refer to the use of robots to automate the process of moving, storing, and retrieving materials in a manufacturing or logistics environment. These solutions can involve a wide range of robotic technologies, from autonomous mobile robots to automated conveyor systems.
The Advantages of Material-Handling Robotics for Efficient Operations
Using material-handling robotic solutions offers many advantages for businesses, including increased efficiency, improved safety, and reduced costs. By automating material handling tasks, businesses can reduce the need for human labor, while at the same time improving the accuracy and speed of material handling operations.
MARSES offers Robotic solutions for material handling that can be customized to meet the specific needs of a business, from simple material transport to more complex operations.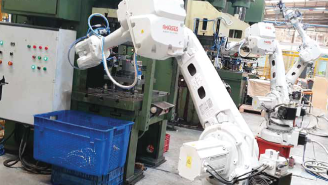 Common Features:
High accuracy
High repeatability
Stacking unit
Single/double multi size gripper (Optional)
Automatic tool exchanger (Optional)
Inspection and vision system (Optional)
Benefits:
Minimum idle time
Reliability
Designed for 24/7 production
High flexibility
Ease of Use and High Availability
Easy maintenance
Easy change-over