About Solution
Welding
Welding Solutions:
To boost your profitability
Welding is a sophisticated process that demands high expertise and production efficiency to ensure a certain quality level. If your company is facing challenges such as rework, idle equipment, labor shortages, or escalating scrap costs, you're likely struggling with low productivity and profitability. Fortunately, MARSES has a team of experts specializing in robotics solutions to help you tackle these challenges and enhance your welding process.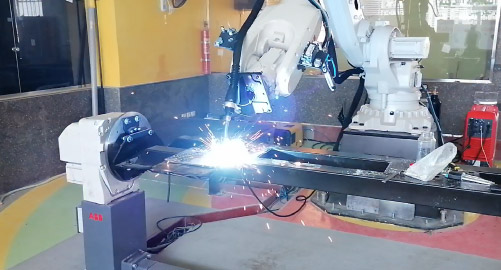 Customized Solutions for Your Unique Needs
At MARSES Robotics, we understand that every client has unique production demands. That's why we offer tailored solutions to help you achieve your goals. Our team of experts will work with you from concept to delivery, providing you with a customized solution that meets your unique welding requirements. Whether you're working with simple or complex products, our team has the expertise to design a jig, fixture, or both to ensure efficient welding operations.
Common Features:
High accuracy
High repeatability up to 0.02 mm
lntegratable with different power sources
Torch service center
Automatic jigs/ fixture
Benefits:
Reliability
Designed for 24/7 production
High flexibility
Ease of Use and High Availability
Good accessibility
Easy maintenance
Easy change-over